Magnesium Alloy Tooling Plate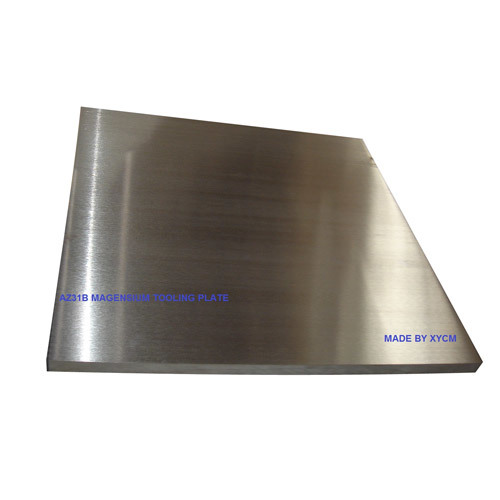 Magnesium Alloy Tooling Plate
Product Code : AZ91D
Brand Name : YUECHEN METAL
We are one of the leading manufacturers of Magnesium Alloy Tooling Plate for our highly valued clients. It is precisely made up of optimum quality raw material for use in several industrial sectors. Top notch machinery helps in effective and efficient processing of the same as per the prevailing industrial standards and norms. This ensures flawless design, strength, durability, finishing and corrosion resistance of our Magnesium Alloy Tooling Plate. This has led to its increasing demands of this plate among our competitors.
Specification:

Thickness: 6mm - 300mm
Width: Max. 2000mm
Length: 4000mm
Tolerances: -0/+3mm for thickness, width and length
Details:

Light Weight: Absorbs Vibration For Longer Life, While Retaining Dimensional Stability.
COSTS: Machine Dry, Without Oil Or Chemicals.
FINISH: Up To 5 Times More Machinable Than Rolled Aluminum.
WEIGHT: Easier Handling Saves Energy And Time.
WELDING: Strong Weldments Up To 95% Of Parent Metal, With Minimal Porosity.
CORROSION RESISTANT: A Wide Variety Of Chemical Treatments Exists For Corrosion Protection, Alteration Of Surface Appearance, And To Provide A Base For Painting. Basic Engineering Precautions Averts Galvanic Corrosion.
NON-GALLING: Sound And Rugged Surface, Offering A Low Coefficient Of Friction And Minimum Wear,
UNIT VOLUME: Greater Amount Of Finished Magnesium Material Obtained, Pound For Pound.
Stablity: No Stress Relief After Machining; No Warps And Is Dent Resistant.
TOOLING: 4 To 5 Times Greater Tool Life.
NONMAGNETIC: Good For Electrical And Computer Applications.
FLATNESS: Eliminates Surface Machining.
ALKALI-RESISTANT: Makes For Easy Cleaning.
STRENGTH: Excellent Strength And Stiffness Per Unit Weight.
REPID HEAT: Ideal For A Broad Range Of Operating Temperatures, From 350 Degrees Fahrenheit To -30 Degrees Fahrenheit.
SALVAGE: Scrap Retains A Consistently High Level Of Value.
Get in touch with us